Guttering Contractors Ballinasloe
If you have a problem with your guttering, spotted a leak or need help with replacing them, call Steve and his guttering contractors in Ballinasloe.
If you want to replace your old gutter system, they provide one of the most affordable solutions throughout County Galway!
Some of the options for replacing your gutters include deep flow gutters, ogee guttering, square gutters and round guttering.
If you need a guttering contractor in Ballinasloe, call Steve on 087 3688490 to book in a free estimate.
Gutter Repairs Ballinasloe
They do all types of guttering repair work including uPVC gutters, loose downspouts, aluminium guttering, seamless gutters with no job too large or too small.
Along with the usual repair work which can involve sealing joints, fixing loose or broken downpipes and attaching new brackets, they provide a gutter sealing service.
They can seal the guttering using a seal coat specially formulated to bond with uPVC gutters. This will help to prevent the gutters from coming loose from each and other along with the prevention of moss buildup in the gutters.
Get help today with your home by calling Steve and CFB for guttering repairs in Ballinasloe.
Soffits and Fascia Services
Along with the normal repair services for guttering, they provide an excellent soffit and fascia service in Ballinasloe. These options include reattaching loose fascia boards, fixing soffits that have came loose or reattaching brackets back into the soffits.
They recommend replacing your soffits and fascia if you are getting rid of your old guttering so you can create a matching new roofline around your home.
During a replacement service, they will remove all the old system, visually inspect the timber frame and replace it with new marine ply if rotten.
When it is 100% watertight, they will put up the new fascia and soffit boards. Alongside this service, they will vent the system for you to make sure that it can breathe properly.
Guttering is hung onto the fascia boards and balanced to ensure the water flows correctly off the house.
Our Previous Work In Ballinasloe
Some of the previous guttering, soffits, fascia, verge work that Steve and his team at CFB - Clean, Fix and Build have completed for customers in Ballinasloe, Galway City, Loughrea, Ballygar and other nearby areas.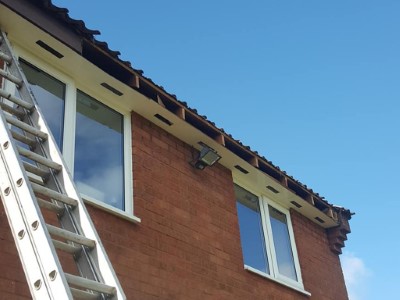 10% DISCOUNT ON ALL ENQUIRIES FROM CITY LOCAL
Guttering Ballinasloe | Soffits & Fascia | Gutter Repairs in Ballinasloe

Steve and his roofing company, will always ensure that the services they provide are done to the highest of standards. Call now on : 087 368 8490 for soffits, fascia and gutters in Ballinasloe, they are local guttering contractors that excel at carrying out repair and replacements.